Home & Commercial Landscaping
There are almost infinite possibilities for your landscaping design. Evergreen Lawn Care is available to facilitate in any way possible for Gainesville landscaping and lawns that are healthy and beautiful.
Gainesville Landscape Maintenance
The importance of landscaping extends past simply keeping the lawn and shrubs trimmed and healthy. Proper landscaping can transform a mere lawn into a work of art that stands out amongst other homes, but beautiful aesthetics are just the beginning. Landscaping also provides functional use that benefits both homes and commercial properties. Gainesville landscaping works to preserve nature by incorporating it into and around the design of buildings and other man-made elements. When properly planned, it can also improve water flow in the property as well as increase energy efficiency in your home or office. Through careful implementation of trees and shrubs, shade around the home can be increased and even controlled along with the circulation of air and direction of breezes. Landscaping also works to create a more inviting and comfortable atmosphere, all while adding functionality to a garden or lawn by creating a place to sit, rest or walk through. Additionally, sustainable lawn care can help your landscaping become more environmentally friendly. These are just some of the positive effects that landscaping can have on your property but the list keeps going. If you are looking into lawn care companies, Evergreen Lawn Care can provide you with all the necessary services for your landscaping in Gainesville, FL. We provide the following resources so that your lawn can live up to its full potential:
Butterfly Gardens
Florida Native Planting
Removal & Installation
Spring & Fall Clean-Ups
Commercial Lawn Care Services
At Evergreen Lawn Care, we provide commercial landscaping Gainesville property owners, property managers and business owners can trust to give their building the upper hand. Landscaping can have a big impact on a business. A well designed and aesthetically pleasing landscape can have the same effect as a professional, detailed website. It says a lot about you and your business and is often the first encounter that a person has with your business. First impressions are very important in a competitive market like the one we live in, and customers and clients will make a decision about you based on the exterior of your business. Because of this, it is crucial to keep a neat and pleasant landscape to ensure that customers' first impressions of you are positive ones.
The design and layout of your landscape also speaks of you. Trimmed lawns, clean sidewalks and a cohesive design shows clients that you have an eye for detail and care about every aspect of your business, from your aesthetics to your customers. The style of your commercial landscaping will also set the tone of your business. By discussing your business's atmosphere and what you want it to convey with your Gainesville landscaping company, your customers will be able to see your professionalism before even stepping into your building. In the end, your landscape should create an appealing and relaxing atmosphere that welcomes both employees and clients to your building.
Residential Lawn Care Services
At Evergreen Lawn Care, we can provide your home with all the necessary Gainesville lawn care and landscaping services. Our professional and experienced lawn care providers can keep your yard healthy and discuss a design that represents and compliments your home. A well kept and well designed yard will turn the heads of family, friends and neighbors. But it isn't just about the compliments, the aesthetics of your yard can actually play a crucial role in your home.
Believe it or not, a beautiful yard can help your home sell fast and sell for more. Gainesville landscaping can increase the curb appeal of your home and a beautiful exterior is often the first thing that draws in potential buyers. A stylish, gorgeous yard adds character to your home and can set the tone for it, making it seem like a lively, exciting place to live in or a calm, relaxing paradise. On the other hand, an unkempt exterior can easily send buyers the other way.
The home is a place for comfort, and you and your family should be able to enjoy every square inch of it. So instead of having an empty, grassy lot of land, Evergreen Lawn Care can help you convert it into an area where you can relax, spend the weekends outside and socialize with family. With a little creativity, we can turn your yard into an inviting and enjoyable environment for you, your family and any guests that you might invite over.
---
Landscaping Services in Gainesville, FL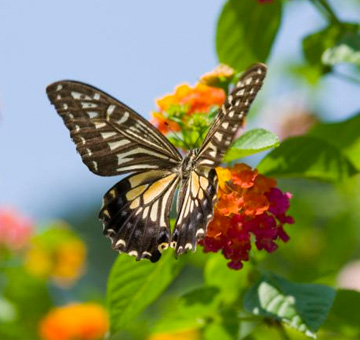 Butterfly Gardens
Nothing is more peaceful than being visited regularly by butterflies at your home or office. Our lawn care team can install a variety of plants and elements that will attract these delicate insects to your home.
Not only will you enjoy your new beautiful friends, but you can enjoy the benefits of the flowers as well. Their bright colors and variety improve the appearance of your property.
Learn More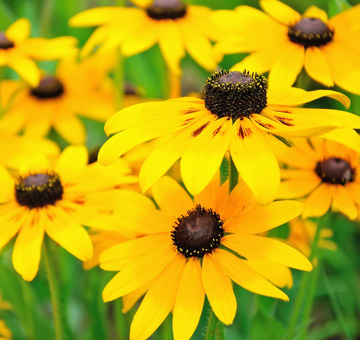 Florida Native Planting
Vegetation is a crucial part of a local landscape. Using Florida native plants in your garden will restore the beauty that is traditionally associated with this state. Installing plants that are already acclimated to the environment will require less upkeep.
We can recommend various species that will complement your landscaping so that your home or business looks great all year.
Learn More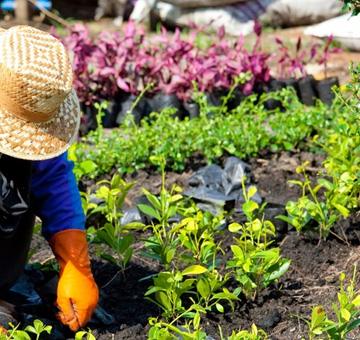 Removal & Install
Landscaping impacts the appearance and other people's opinions of your home or business. Spruce up your lawn by allowing our team to remove dead or diseased plants that are affecting the appearance of your property. We are able to extract any trees, shrubs or plants that may be invasive or too large.
We can also install any number of seasonal plants to your garden. You will experience an ever-changing experience of color as flowers transition in and out of seasons.
Learn More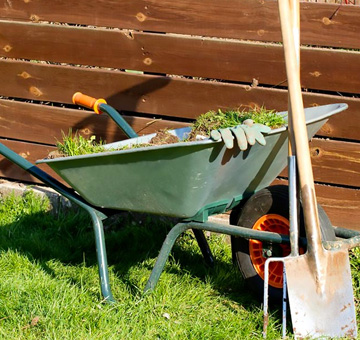 Spring & Fall Clean-Ups
Do you have a large pile of leaves in your yard you do not want to rake? Are you unsure about how to prepare your garden for spring? Properly preparing for the different seasons is integral for the health of your landscaping.
Our seasonal clean-ups will help your garden recover from the previous season while preparing for the next one.
Learn More