Storm Yard Cleanup
Small trees, fallen limbs, and other yard debris left from storms can be damaging and dangerous. Evergreen Lawn Care can help get rid of this unwanted debris safely and in a timely manner. Contact us after a storm of any size to schedule storm cleanup services.
Post-Storm Damage Cleanup
Viewing your front lawn or commercial property for the first time following a storm can be overwhelming and surprising. After heavy rainstorms or tropical storms in Florida, the property may be littered with limbs, leaves, and branches struck by lightning or downed by high winds. As a business owner, you understand that curb appeal is integral in attracting customers. Remnants of storm damage can make a commercial property seem unapproachable or appear to be closed. Cleanup services from Evergreen Lawn Care restore the landscaping and improve the property's appearance. These services should ideally be performed after every thunderstorm and not just the ones that are emphasized by the news to ensure your lawn remains healthy and appealing to the eye.
During cleanup we will:
Assessing the condition of the yard
Removing small fallen trees
Examining trees for solutions other than removal
Raking leaves
Clearing away branches from lawn
Debris Cleanup Services
The most important part of storm cleanup is ensuring the safety of your family, yard, and property. Though it may be tempting to remove debris by yourself, it's better to consult professionals. At Evergreen Lawn Care, we have experience with assisting many families and business owners following the aftermath of large storms. We can identify potential problems that may affect the property and offer effective solutions.
Florida is no stranger to large thunderstorms and hurricanes, which can leave a path of destruction in front of a home or business. Evergreen Lawn Care has the equipment and training necessary to safely and efficiently restore the property to its original state. Our storm debris removal service includes disposing of pine cones, fallen branches and sticks, and other objects that have accumulated. We're also able to cut down potentially dangerous branches and remove any fallen trees.
Rapid debris removal is crucial for commercial properties as any that remains can deter customers or even halt business operations entirely. Evergreen Lawn Care understands time is money for business owners which is why our team works diligently and efficiently to clear the debris. Not all storm cleanup companies are the same. Contact Evergreen Lawn Care after a storm for safe and thorough tree debris removal.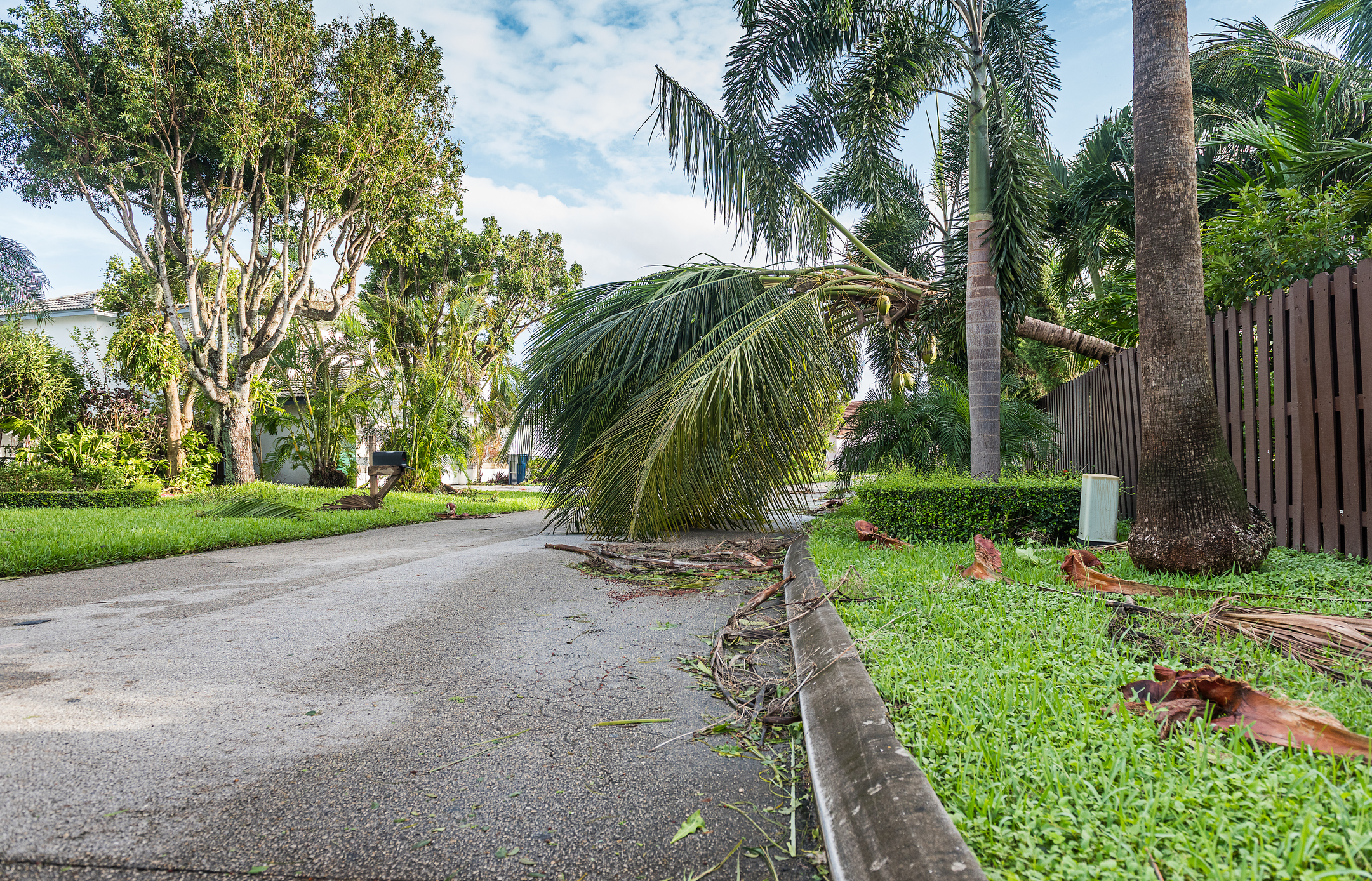 Storm Damage Cleanup Experts
Removing fallen branches or small trees without experience or appropriate equipment can endanger yourself and others. Uprooted trees could be touching power lines which may or may not be live. Instead, contact our lawn care team immediately to safely mitigate these threats while also cleaning up the damage.