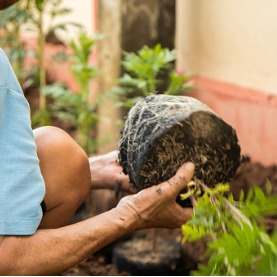 How To Avoid The 7 Biggest Landscaping Mistakes
Aug 06th 2019
Whether you have a big yard or big dreams, landscaping can be a complicated endeavor for the most plant-savvy, green-thumbed individuals. Learn how to avoid common landscaping blunders and remedy issues that may have already crept into your yard with the help of the Gainesville landscapers at Evergreen Lawn Care. For additional information about lawn care or to schedule trusted landscaping services for your home or business, contact us today.
Mistake 1: Choosing Non-Native Plants
Just because a plant may appear attractive doesn't mean it belongs in your landscape. Along with taking into consideration the specific characteristics of your type of landscape — including the amount of light and shade each area receives and the general layout — you should also be mindful of whether the plant in question is native to your region. Non-native plants can attract pests, promote weeds, and pose risks to other plants in the landscape. Florida native planting allows landscapes to thrive with plant species commonly found in the area as they require less care, offer greater longevity, and promote a more vibrant lawn than non-local options.
Mistake 2: Not Planning (Or Planting) For Pets
If you're wondering how to landscape for the benefit of each member of your household, be sure not to forget about your furry or fuzzy family members. When it comes to planning for your lawn and landscape goals, consider the fact that, like your family members, pets also spend time outdoors — even indoor pets may seize the opportunity to briefly venture outdoors at some point. Unfortunately, some common plants may be harmful and even lethal for pets to ingest. To keep your furry friend safe from danger in your landscape, do some research or consult landscaping professionals to prevent the addition of toxic plants throughout your property.
Mistake 3: Overdoing Ornamentation
It can be easy to get excited about your backyard or lawn and make decorative additions without considering possible repercussions to the overall aesthetics. While there's a place for ornaments and tchotchkes in your landscape, avoid overwhelming the area with too many items that detract from, rather than enhance, the property. A smart way to employ simple landscaping ideas through ornamentation is to choose one or two decorative outdoor items that you intend to add and consider whether the items would, in fact, add to or take away from your overall vision in conjunction with plants, trees, and other items in the area.
Mistake 4: Scalping The Lawn
A popular misconception about grass is that cutting it shorter will result in less need for mowing in the future — but that is not the case. Cutting the grass too short can actually cause more harm than good. Scalping the lawn often results in unsightly bare patches, making the lawn vulnerable to weeds, insects, and other pests and even serve to increase the lawn's suceptibility to disease. Grass that is repeatedly cut too short can also lead to a depletion of the grass' energy reserve, which can weaken and eventually kill the grass completely. As a general rule — although appropriate lengths differ among various species of grass — no more than a third of the grass blades should be removed during a single mowing session. Contact us to find out how one of our lawn care service packages can you help ensure that your home or business' lawn or landscape is well-maintained throughout the year.
Mistake 5: Neglecting Trimming & Pruning
Trees play a major role in any type of landscape. As such, proper care is essential to protect your property from potential damage, your family or employees from impending danger, and your trees from possible disease. Hiring professional landscapers for tree trimming and pruning services can serve to improve the overall appearance of your landscape; allow light to reach the area under the tree; encourage healthy growth; avoid the development of pests and fungi; and remove potentially hazardous limbs and branches from your property. The lawn maintenance from Evergreen Lawn Care comprises all-encompassing services to manage your lawn and landscape needs, including trimming and pruning of trees, hedges, and shrubs.
Mistake 6: Not Implementing Appropriate Irrigation
Planning the proper irrigation structure and schedule should take place at the beginning of your landscape project. Different species of plants in your landscape may have different watering needs and maintenance requirements — an irrigation system should take these into account. To help home and business owners combat ineffective irrigation, we offer landscape consultations, in which the condition of the lawn or landscape is assessed and solutions for improvement are discussed, such as irrigation services, which include repairs, maintenance, and inspections of commercial and residential irrigation systems to ensure both efficiency and effectiveness. To meet the watering needs of your lawn or landscape, contact us today!
Mistake 7: Planting Trees Too Close To Home
Planting a tree may seem like a simple way to improve your property's value and overall aesthetic, but without proper consideration of the tree's placement, your efforts could result in more harm than good. Among the most common landscape design mistakes is planting trees too close to residential structures. Overhanging limbs can damage the roof and spreading roots can cause damage to the property's foundation. To ensure the safety of your home, do some research beforehand to choose the best type of tree for your property and and proceed to plant the tree several feet away from the structure. Landscapers can also help you ensure that your new trees are properly installed with professional tree installation services.