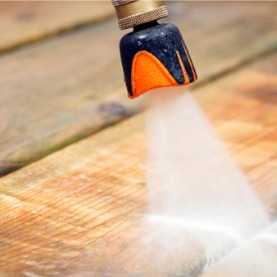 3 Benefits Of Pressure Washing Your Deck
Sep 27th 2022
Decks are the perfect outdoor space to kick back, relax, and hang out on a sunny summer afternoon. Not to mention, a nice deck can boost the overall value of your home and make it more appealing to potential buyers when it comes time to sell. If you have a deck you love, you'll want to ensure it receives proper maintenance and keep it in tip-top shape. Having your deck pressure washed is an easy way to keep it in good condition and looking its best. Below we outline three benefits of pressure washing your deck.
Evergreen Lawn Care is a full-service lawn care company offering high-quality services in Gainesville and Jonesville, FL. Contact us today to request a free estimate on our pressure washing services!
Boost Curb Appeal
A nice deck can greatly improve the appearance of a home's yard and, much like anything done to improve its exterior, boost its value. However, a dirty deck can have the opposite effect. Whether or not you're planning on putting your home on the market anytime soon, most people would agree that the more your home is worth, the better. By pressure washing your deck and keeping it looking clean, you will boost its curb appeal and value.
Prolong The Deck's Life Span
Pressure washing is a necessary component of maintaining a wood deck. Wood is a sturdy material perfect for structures such as decks, but wood is also porous and vulnerable to moisture, pests, sunlight, and more. To ensure your deck can withstand the elements and maximize its lifespan, you'll need to be able to identify problem areas when they occur, which can be tough if there are layers of dirt and grime on your deck. By cleaning your deck at least once a year, you can keep it clean enough to identify the beginning of issues and address them before they become a bigger problem.
Remove Dirt, Algae, & Mold
Obviously, the biggest benefit of pressure washing a deck is how much cleaner it will be afterward. Pressure washing removes debris you don't want all over your deck, including dirt, algae, mold, mildew, and more. After being pressure washed, your deck will look good as new and be free of unwanted grime! Contact us today to schedule a free estimate on your pressure washing services!