Pressure Washing Services
Trained and experienced in residential and commercial pressure washing, we take pride in our pressure washing services. From condo associations to driveways, we do it all.
Pressure Washing Services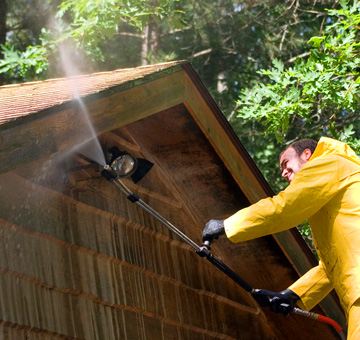 Improve the appearance of your home's siding, porch, driveway, and deck with our pressure washing services. Pressure washing can increase the lifespan of these areas as well as protect loved ones from the effects of mildew. A clean, beautiful home can also increase its value!
The frequency of residential pressure washing will depend on the quality of the home's paint and the climate. Many homeowners prefer to have their home pressure washed once a year to prevent dirt and/or mold accumulation.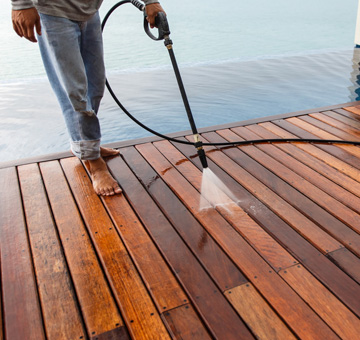 Pools, Decks & Enclosures Pressure Washing
Pools and the surrounding areas have the potential to accumulate mold and mildew due to the high levels of moisture and humidity. Bacteria and mold are not only unappealing but also harmful to your family. The accumulation of dirt and grime can cause pool decks to become slippery and dangerous.
Our team can pressure wash any pool, screen enclosure, or pool deck to remove unsightly and unsafe dirt, mildew and physical debris.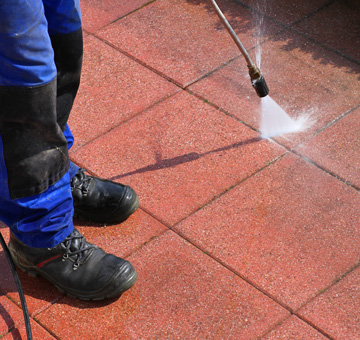 Driveway & Curbing Pressure Washing
Over time, driveways become covered with dirt, spilled oil, mildew, tire marks, and stains from plants. These factors can degrade the concrete, affect your family, and make the front of the home look unappealing. Let our pressure washing team improve the home's appearance and value.
How frequently a driveway needs pressure washing depends on how quickly it dirties. Evergreen Lawn Care recommends having an annual or semi-annual cleaning done.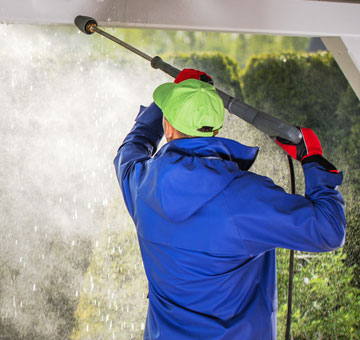 Roof Soft Washing
Roofs easily accumulate dirt, lichen, moss, and debris. Not only does this buildup decrease the life of your roof, but it also influences energy consumption and efficiency. Algae growing on roof tiles absorbs heat and increases the temperatures within the home. This can raise utility costs as you attempt to keep the home cool.
Our team uses soft washing chemicals to remove grime. This method doesn't harm the roofing materials with harsh chemicals or high water pressure.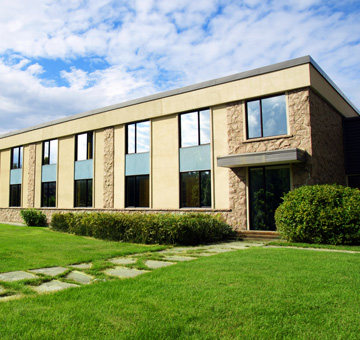 The last thing a business owner wants to find out is they lost a customer due to a filthy exterior. Consumers trust companies with a professional and responsible appearance, two traits with a close link to cleanliness. Our team can maintain the appeal of a commercial property with regularly scheduled services. This way you don't need to wait until grime builds up to clean it.
We have the equipment necessary to clean any building, regardless of size — from the roof and the exterior to the concrete and parking lot.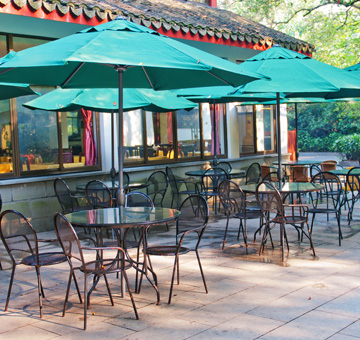 Restaurant Pressure Washing
Customers become particularly aware of the state of their surroundings when choosing where to eat. If dirt and mildew cover the restaurant exterior or grime and stains cake the outside concrete, consumers will be less likely to trust the food quality. We offer pressure washing services to clean the exterior of the building and the flooring.
Exterior surfaces, such as patios, should be routinely cleaned to prevent buildup from deterring patrons.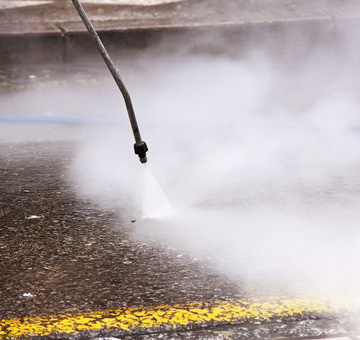 Drive-Thru Pressure Washing
As a restaurant owner, how often do you check the drive-thru lane to see what the customer experience is like? Drive-thrus are often covered in dirt, grime, and debris from high winds and storms. Due to the frequency of traffic on the concrete, drive-thrus can even become stained from oil and rubber.
Drive-thru pressure washing ensures the exterior of your restaurant is clean and pleasant for patrons. Contact us for annual or semi-annual pressure washing services.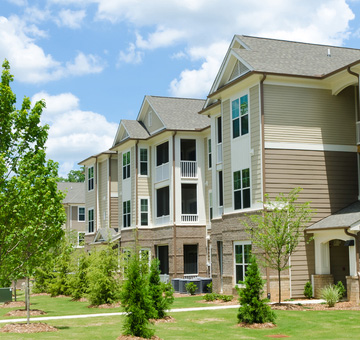 To attract new tenants and retain current residents, you want them to feel at home. If your buildings are streaked with dirt, animal droppings, cobwebs or mildew, renters may feel uncomfortable and unsatisfied. Further, cleaning the buildings regularly extends the functional lifespan of the structure, saving you money.
Our apartment and condo pressure washing services include the building's exterior, parking lot, roof, and concrete.
---
Residential & Commercial Pressure Washing
Over time, dirt and grime can build up along on your driveway, sidewalks, pool, roof, parking lot, and building exterior. Though this dirt build-up may occur slowly, it stills affect the home or business. Regular pressure washing service helps slow visible grime build up and saves money in the future.
Residential Pressure Washing
Pools, Decks & Enclosures
Driveways & Curbing
Soft Washing of Roofs
Walkways & Sidewalks
Apartments & Condos
Restaurant Pressure Washing
Drive-Thru Pressure Washing
Importance of Pressure Washing for Your Home or Business
Whether you want to admit it or not, first impressions are important. If a client walks up to your building and notices an abundance of dirt and mildew stuck onto the walls or walkways, it will leave a poor first impression. They may feel your business is unprofessional or has inferior service. The same is true with a home. When you invite people to visit, you want them to feel welcome instead of staring down dirt and grime at the entrance. If you're selling a home or property, pressure washing services can improve the value and curbside appeal.
Pressure Washing Benefits
At Evergreen Lawn Care, we recommend scheduling regular pressure washing to reduce the buildup of dirt. With more grime, the job becomes more difficult. But even with an abundance of dirt, sand, grime, mildew, and mold, a thorough pressure washing by our technicians can leave the area spectacular. Allowing sediments and grime to remain can permanently damage the surface and even lead to cracks in walls and sidewalks. With professional pressure washing, you can ensure the home and business are clean, presentable, and safe.
Why You Should Hire Pressure Washing Professionals
It may be tempting to rent a pressure washer and attempt to wash the building yourself. However, it's more beneficial to hire a professional. We have the equipment necessary to effectively remove dirt and mold without damaging the exterior. If you have never used a pressure washer, don't risk it! A pressure washer is a powerful tool that can cause injury and damage.
Machines available for rent come with their own risks. These machines are used and abused frequently. By renting a pressure washer, you don't know whether it has been used as directed or if it has experienced increased wear and tear. And as no two pressure washers are identical, the amount of pressure you may be used to could be different on a rented machine, which can lead to injury.
Overall, commercial and residential pressure washing helps prevent damage to your home or business. It can also restore the beauty of an area to create a lasting first impression. Hiring a professional will save both time and money and ensure the job gets done properly. Evergreen Lawn Care provides you with the expert service you need to ensure your home or office are safe and clean.