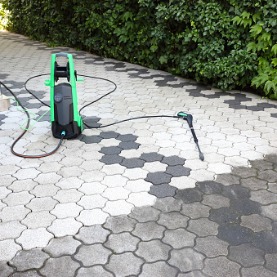 Why Pressure Washing Is Important For Your Home Or Business
Mar 25th 2022
You may assume the benefits of pressure washing can be achieved by regularly hosing things down around your property, but that doesn't provide the same level of cleanliness. With our pressure washing services, we use a high-pressure jet of water, often paired with cleaning solutions, to blast away built-up slime, grime, and more. Plus, we can pressure wash almost any surface! From sidewalks to driveways, patio furniture to roofs, there's almost no surface that won't benefit from some deep cleaning. Learn more about how pressure washing can impact your home or business property, and contact Evergreen Lawn Care today to request a free estimate!
Improves Appearance
Caked on mud and grime can be an eyesore, whether a home or a business. But, pressure washing can quickly keep your property looking pristine. Commercial properties act as a first impression for customers, clients, and potential employees. You want to put forth your best face, so to speak, with anyone who comes to your business. Even as a homeowner, you don't want to be known as the house with the grungy appearance. Pressure washing can enhance curb appeal, whether you're entertaining guests, making a good impression on neighbors, or trying to sell your home.
Prevents Damage
Dirt and grime are more than just an unsightly mark against your property, they can also cause damage over time. Left untreated long enough, grime can erode paint, permanently stain PVCs and plastics, and weaken wooden structures by trapping moisture long-term. Without regular cleanings, a wooden walkway or deck won't last nearly as long or look nearly as nice. Patio furniture, decorative fixtures, and business signs need to be replaced faster, wasting your money while impacting the quality of your property.
Enhances Walkways
Florida gets a lot of rain all year round, so sidewalks, paths, driveways, and parking lots are often wet. Combined with grime, it creates a slick surface that's a potential danger for you and anyone else walking on your property. We recommend cleaning your walking surfaces at least once a year and more frequently for properties in muddy areas or has a lot of tree coverage where grime tends to build up faster. Professional irrigation maintenance and repair and driveway repair can also help improve your walkways.
Primes Surfaces For Renovation
If you plan on painting or refinishing your home's siding, a deck, walkway, or roofing, pressure washing those surfaces first can ensure the renovations can be completed without complication. New paint or siding better adheres to clean surfaces, ensuring the paint colors will be rich and last longer. If you're having a part of your roofing fixed or replaced, having the area pressure washed first can uncover problem areas that might have been overlooked before.
Professional Power Washing Saves Time & Money
Pressure washing is effective, and affordable. All we need is access to a water source, and we'll have your area cleaned and looking fresh in no time! At Evergreen Lawn Care, we want to help your outdoor area look amazing! That's why we offer a full range of landscaping services in addition to Gainesville pressure washing. A complete landscape upgrade can take as little as an afternoon and last for years. Check out our before and after landscaping gallery to see how we've transformed other properties.