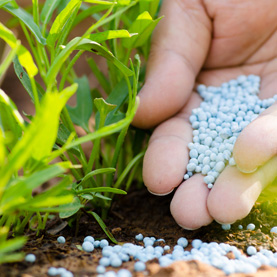 Should I use organic or chemical fertilizers?
Jun 12th 2013
Garden centers and home improvement stores offer many brands and varieties of fertilizer. Traditionally, fertilizers have been processed to isolate, extract, and refine the actual fertilizer. These chemicals and nutrients are then combined with other particles to form fertilizer that is used in landscaping and gardening.
Organic fertilizers are generally the same chemicals and elements, but are minimally processed and packaged in their original form. For example, an organic fertilizer that contains nitrogen, phosphate, and calcium may contain mostly manure — which has these elements naturally. A chemical fertilizer contains the same elements, but they have been chemically and mechanically processed.
Advantages of Organic Fertilizer:
As organic fertilizers break down, they improve the ability of your soil to hold water
They break down slowly, so over fertilizing is usually not a problem
There are many ways to make your own organic fertilizer using composted manure
Disadvantages of Organic Fertilizer:
Organic fertilizers don't work as well in the winter and during droughts.
Nutrient amounts are not exact, and generally less than that of chemical fertilizers
Organic fertilizers work slowly – they rely on nature to work, and can take longer than chemical fertilizers.
If making sure you're doing your part in keeping chemicals out of the earth, organic fertilizers are the way to go. But using chemical fertilizers sparingly can help maintain your lawn and garden year round and during times when your lawn or plants need an extra boost to make it through a difficult season.