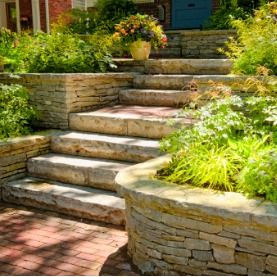 4 Reasons Power Washing Is Great For Stone Surfaces
May 24th 2022
Pressure washing is great for cleaning various surfaces, including wood, concrete, and stone. If your home or business has stone surfaces around the property, our professional power washers can provide a deep clean to restore the stone to its original beauty. Contact Evergreen Lawn Care today torequest a free estimate on our landscaping and pressure washing services!
Gets Into Crevices
The natural edges, crevices, and stone fissures make it unique and alluring. However, these rough spots can also be prone to compacting with dirt, grime, and debris, leaving blemishes on an otherwise clean stone surface. Power washing can get into these hard-to-reach areas, blasting away accumulated dirt and leaving it as clean as the day the rock was laid. Using brushes or chemicals to clean stone can cause damage and eat away at the stone's natural patina. However, professional power washing is gentler on stone surfaces, ensuring their beauty lasts longer.
Removes Years Worth Of Grime
Because of its porous nature, stone is prone to attract everything that crosses its path, leaving stone surfaces looking dull and dirty. However, whether you power wash annually or haven't power washed your stones in 20 years, power washing can remove all of the grime built up between cleanings, restoring your stones and enhancing their natural colorings and beauty. You won't get a clean that deep from any other option!
Increases Safety
Power washing is a powerful tool to keep stone surfaces clean, but if you don't know what you're doing, you can risk obliterating the stone, causing damage and ruining its natural protective surface. As a professional Gainesville power washing company, we understand how to correctly clean stones without risk of damage. Contact us today for a quote!
Safe & Effective Professional Power Washing
If you plan on painting or refinishing your home's siding, a deck, walkway, or roofing, pressure washing those surfaces first can ensure the renovations can be completed without complication. New paint or siding better adheres to clean surfaces, ensuring the paint colors will be rich and last longer. If you're having a part of your roofing fixed or replaced, having the area pressure washed first can uncover problem areas that might have been overlooked before.