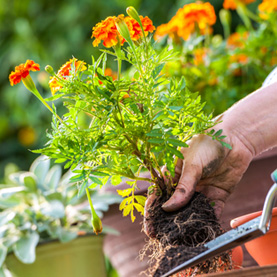 Now is the perfect time to plant flowers and vegetables!
Mar 29th 2013
Gainesville's mild April temperatures mean it's a great time to plant flowers in your yard. We recommend planting annuals such as coleus now. Coleus looks great on your patio in planters, or in natural areas around your house.
For cut flowers later in the spring, plant bulbs such as lily, and iris now as well. The Louisiana iris has a beautiful flower and offers many sizes and colors.
For vegetables, continue planting warm season vegetables in April. Okra and cucumber are perfect to plant right now. Don't forget to mulch your garden very well in order to prevent weeds, and provide plenty of water to your plants if April ends up being dry.
April is also a good time to prune azaleas as they should finish blooming in the next few weeks. Shrubs that begin to show new spring growth can be pruned. To make sure you save next season's blooms, start pruning after the last flowers fade but before the new buds set.