Gutter & Roof Cleaning Services
for Your Home & Business
Debris that collects over time in the gutters of a home or business can cause water to back up into the roof. Unless the water is quickly drained, it can cause damage and leaks which is why it's important to periodically check for buildup and possible damage. The coverage and location of trees in the area affect what type of issues your gutters face. Evergreen Lawn Care recommends spring and fall cleanings, but some homes and businesses may need quarterly gutter cleaning service. No matter what your gutter need is, our team can schedule service to meet your schedule.
Gutter & Roof Clean-Ups
Gutters are an integral element in the drainage system for a home or business. Yet, cleaning may seem insignificant and easily forgotten when it comes to maintenance. Many people don't clean these areas until they realize there's a problem, such as water pouring over the edge of the roof. Waiting this long unfortunately winds up costing more as the gutters may need to be replaced and water damage to the home or business repaired.
Benefits of Regularly Cleaning Your Roof & Gutters
Waiting to clean the gutters unless there's a problem puts your home or business at risk of damage. Gutters are used to collect and properly drain water. If they become clogged, water backs up and overflows. Depending on the roof slope, backed up water can pool on the roof, eventually seeping through and damaging ceilings and walls. Or, the overflowing water may pool around the foundation of the building, causing long-term structural issues and leaks.
Effective water drainage helps to avoid these issues along with possible damage to the landscaping. Plus, clogged gutters and drains become breeding grounds for mosquitos and other pesky insects.
Regular cleaning also extends the lifespan of the gutter and roof. The weight of debris and leaves strains the supports holding up the gutters and rainfall only increases this weight. The extra weight may cause a collapse — when this happens, the fascia and soffit can also be damaged or torn away from the roof. In this case, these components along with the gutter need to be replaced to keep the home or business sealed.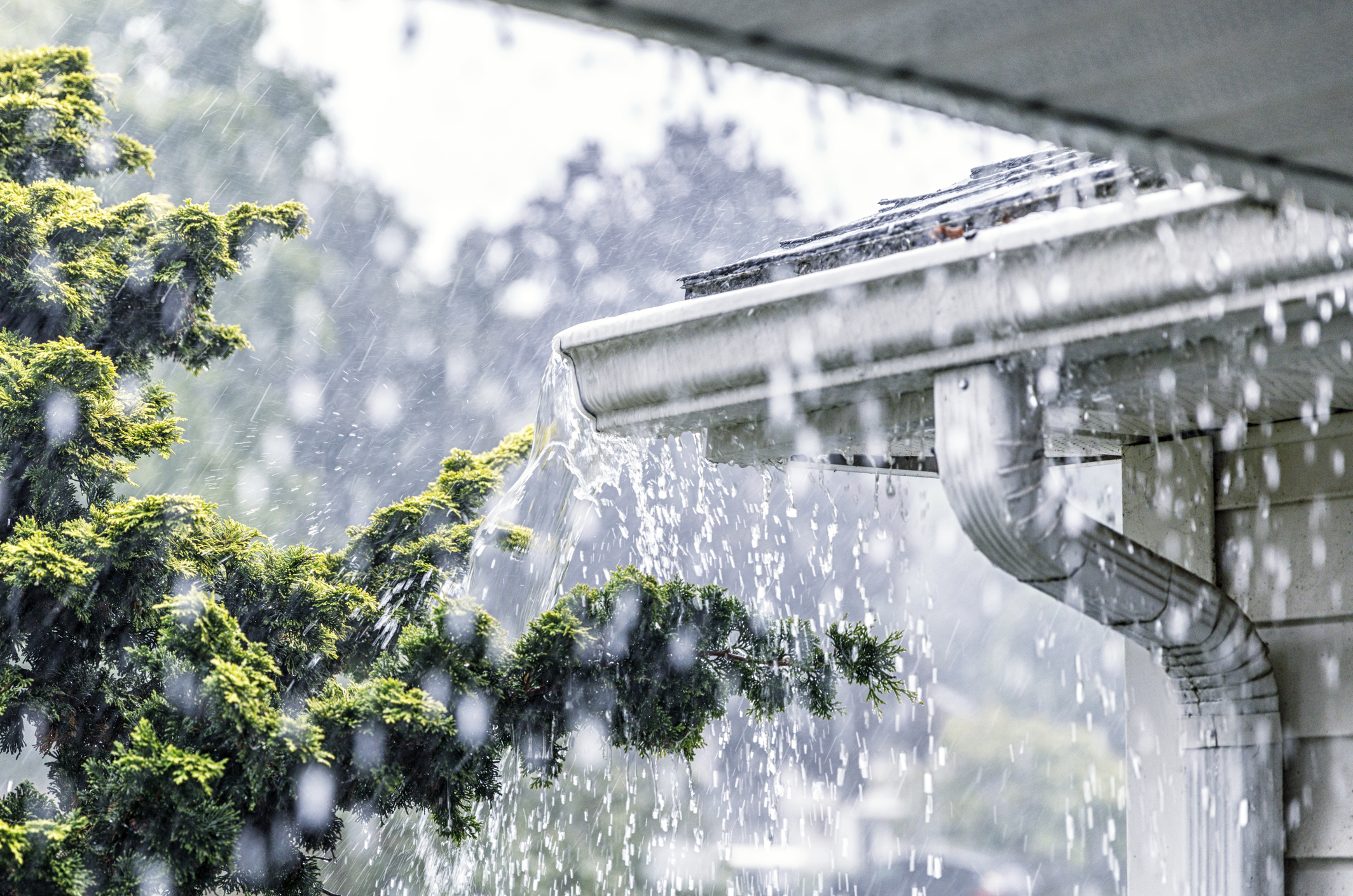 Risks of Residential & Commercial Roof / Gutter Cleaning
Attempting to clean the gutters and roof yourself carries the danger of significant injury or even death. Falls from ladders and rooftops are common, frequently resulting in severe injuries. Although we applaud the household handyman, sometimes it's best to call in the professionals. At Evergreen Lawn Care, we have the experience, safety equipment, and tools to clean and clear all style and type of gutters. Cleaning commercial buildings can be even more challenging due to the height of the buildings and the massive size of many commercial properties. Don't put yourself or staff at risk — call us today!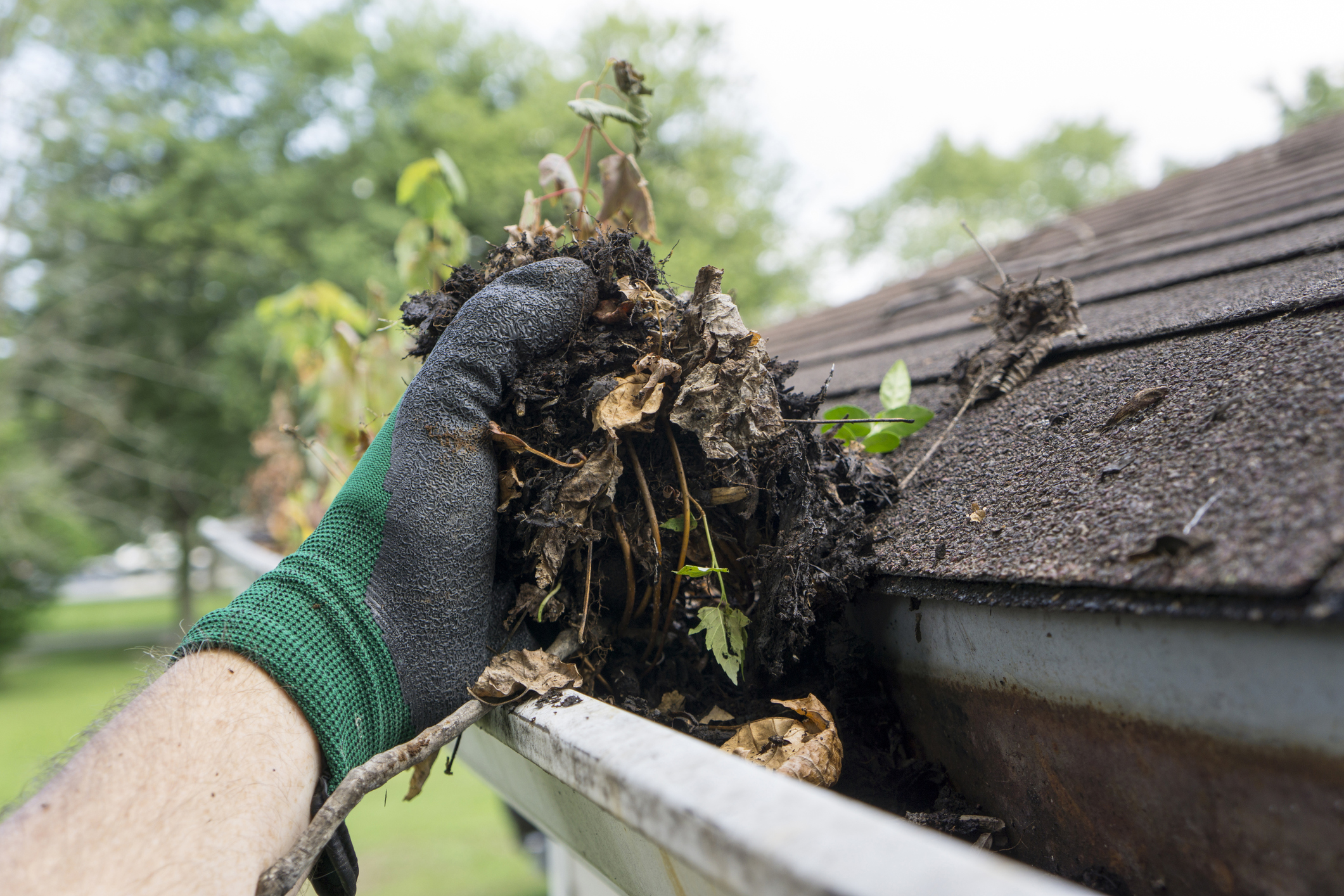 Importance of Hiring a Professional
Many homeowners who have tackled this type of cleaning on their own know it can take an entire day to finish. Yet, a professional can do the same task within a few hours and recommend products which can reduce the amount of cleaning needed, such as a gutter guard.
Your roof and gutters need to be kept clean. Debris left on a roof and in gutters can severely reduce the life of the roof and create conditions conducive for other problems to develop. Our services include blowing debris from the roof while cleaning the gutters. Debris, including leaves and sticks, can damage the roof materials as well as allow algae growth. This growth can quickly clog your gutters.