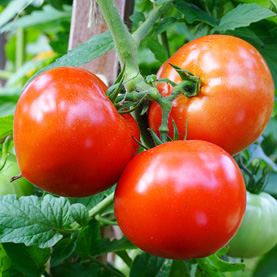 Early May is a great time to plant tomatoes in Gainesville!
May 02nd 2013
Tomatoes are popular because they are easy to grow and taste great! Here's some tips to help grow the best tasting tomatoes.
Position your tomato plants so they get as much direct sun as possible. Tomato plants love sunlight, and it's important for them to get enough sun. If planting on a patio or porch, position the plant so it gets at least six hours of sun.
Space your plants out. Make sure each plant has enough room to grow and branch out properly
Plant them deep. Plant tomatoes so that a full 2/3 of the plant is underground. This means if you buy a 12" tall plant, only 4 inches should be exposed after planting.
Tomatoes sprout their roots all along the buried stem, so they will grow stronger and be able to support more fruit and survive in the hot Florida sun.
Water, water, water! Make sure you water your tomatoes frequently as they grow. When the fruit is nearly ready, cut back on the watering to produce a sweeter tomato.
Remove the bottom leaves. After your tomato plant has been in the ground for a few days, remove the bottom leaves that are within 1" of the ground. This will cut back on the chances of fungus attacking your plant.
Tomatoes are one of the easiest plants to grow in Gainesville. There are many varieties available at every garden center right now! Evergreen Lawn Care serves Gainesville and the surrounding communities.