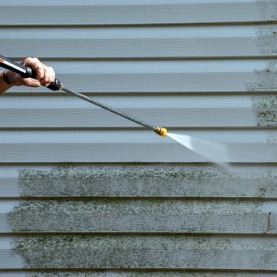 3 Reasons To Pressure Wash Your Business Exterior
Jul 21st 2022
Many businesses may not spare much thought for how their exterior looks, but your building's appearance can make or break your client's first impression of your business. From landscaping to the cleanliness of your business's exterior, keeping the outside of your business as nice as it is on the inside can help set the professional tone your company deserves.
Contact Evergreen Lawn Care today to request a free estimate for our landscaping and pressure washing services!
Creates An Inviting Business Front
If you serve clients and customers at your business, you want to make the best impression possible from the moment they pull into your parking lot. You don't want them to be greeted with a muddy parking lot and slimy, gross-looking walkways. And, you certainly don't want them to realize the filthy building they're looking at is yours. Pressure washing creates a welcoming business front that is clean and professional and gives the impression your company is where they want to do business. Even if you don't regularly see clients at your business, you want anyone who sees your business, from employees to passersby, to think highly of the company you've worked so hard to create.
Extends The Life Of Your Property
Not only does caked-on mud and grime significantly impact the look of your property, but it also impacts the quality and lifespan of your exterior, from wood and plastic surfaces to harder surfaces such as concrete, stone pavers, and brick. Grime can erode surfaces and paints, leaving buildings' exteriors shabby and worn down. However, regular pressure washings can erase damage-causing grime, keeping your property looking new and fresh for years to come.
Reduces Maintenance & Saves Money
Keeping exterior surfaces clean is essential in helping them last longer. This goes for painted surfaces, building siding, and even roofing. But, the benefits don't stop there! Regular pressure washing can prevent the need for driveway repair and can even support proper irrigation. Not having to replace or maintain your exterior past the occasional pressure washing is a great way to save money for your business while reaping the rewards of easy maintenance!